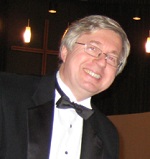 Sergei Pavlov's Debut Piano Studio is a piano school targeting the eastern part of GTA: Markham, Scarborough, Ajax, Pickering, Whitby. It offers piano lessons in your home or at our studio for both beginners and advanced, kids or adults, in preparation for RCM examinations and piano competitions. As of 2015, Sergei Pavlov is offering Internet piano coaching over Skype, intended for the advanced student. More about Skype assistance for piano students is available on the Piano Lessons page.
Sergei Pavlov, a member of ORMTA (Ontario Registered Music Teachers Association), is arguably one of the best piano teachers in the Greater Toronto Area, based on his well awarded talent as a pianist, his sought-after Russian piano education at the renowned Tchaikovsky Conservatory in Moscow, and his student's achievements. Sergei's extensive piano performing and teaching expertise spans over two continents and numerous countries.
As a piano pedagogue, Sergei Pavlov is a results-driven, creativity encouraging piano teacher whose piano lessons involve expectations of commitment and dedication, while fun is not excluded. Debut Piano Studio's students achieve proud results in competitions and RCM examinations. The competitions include the outstanding Canadian Music Competition CMC, open to outstanding talent coming from all over the country.
There are three essential, objective facts that make Sergei Pavlov's Debut Piano Studio stand out as a piano school in the Greater Toronto Area:
Sergei has a de facto award-winning virtuosic technique that he is fortunate to pass on to his students. He won the 1995 Bartók-Kabalevsky-Prokofiev International Piano Competition (please see the Past Competition Laureates section). For videos of piano performances of both teacher and students please check out Sergei Pavlov's Youtube channel and scroll down this page to sample some of Sergei's performances.
Recognition of his musicianship involves invitations to adjudicate piano competitions at national and international level - he was in the jury of the above competition in 1996.
Sergei Pavlov is an avid participant in professional workshops, seminars and online forums, thus continuously researching, improving and tailoring his knowledge base and teaching methods.
For registering for piano lessons, piano lessons rates and Debut Piano Studio's policies please visit the Piano Lessons page and enjoy videos recorded during the recitals of Sergei Pavlov's Debut Piano Studio. "Discover the music within!..." and have a glimpse at our students' accomplishments.
Breaking News: Our student Johann Derecho just won the ORMTA Young Artist Competition at the provincial level on July 25, 2015. The same competition honoured him with the Esther Su Memorial Award for the most promising talent out of all competitors in different categories in the provincial finals. Johann's prizes come with a monetary award and a concert tour in the province of Ontario. We are thrilled and looking forward to seeing him perform in concerts, as four venues have been already lined up and more are to come.
At the North York Music Festival Johann won the Founder's Award Class and Scholarship which entitled him to attend the Peter de Grote Festival and Summer Academy in Amsterdam, The Netherlands, in July 2015.
Emily and Julia won first prizes at the North York Music Festival. At the ORMTA Spring Auditions of the Scarborough Branch Emily won the First Prize in the Intermediate level and Maria was promoted to participate in the GTA Zone Instrumental Competition.
The Scholarship and Awards Auditions of the North York / York Region Branch of ORMTA concluded with scholarships and prizes for Emily, Julia, Justin, Chris and Johann
At the CCC Toronto Piano Competition, Chris won the second place in the ARCT level category with Partita by Bach.
Warm congratulations to all of Sergei Pavlov's students who participated in music festivals and auditions in the first part of 2015!
Featured below is a performance of the first movement of Grieg's Piano Concerto in A Minor delivered by Johann Derecho, winner of the Second Prize and a scholarship in the Canadian Music Competition in June 2013. He plays here with the Symphony on the Bay at the 'Schumann and the Young Musicians' concert on November 3, 2013, at the Burlington Performing Arts Centre. Johann was the winner of Symphony on the Bay's 2013 Young Artists' Competition , in the Junior category.