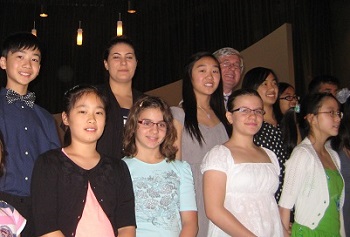 ---
Music events
---
The summer recital of Debut Piano Studio took place on June 29, 2015 at the Donway Covenant United Church in Toronto. The evening was filled with very enjoyable, motivational and inspirational piano performances by the students, wrapping up a very successful school year on a wonderful... musical note.
Breaking News: Our student Johann Derecho just won the ORMTA Young Artist Competition at the provincial level on July 25, 2015 (ORMTA stands for the Ontario Registered Music Teachers Association). The same competition honoured him with the Esther Su Memorial Award for the most promising talent out of all competitors in different categories. The prizes come with a monetary award and a concert tour in the province of Ontario. We are thrilled and looking forward to seeing him perform in concerts, as four venues are already booked and more are to come.
Johann also won the Founder's Award Class and Scholarship to attend the Peter de Grote Festival and Summer Academy in Amsterdam, The Netherlands, after participating in the 2015 North York Music Festival. Congratulations, Johann!
Emily and Julia won first prizes at the North York Music Festival. At the ORMTA Spring Auditions of the Scarborough Branch Emily won the First Prize in the Intermediate level and Maria was promoted to participate in the GTA Zone Instrumental Competition. Great job, girls, we are very proud of you!
The Scholarship and Awards Auditions of the North York / York Region Branch of ORMTA concluded with scholarships and prizes for Emily, Julia, Justin, Chris and Johann - warm congratulations to all!
At the CCC Toronto Piano Competition, Chris won the second place in the ARCT level category with Partita by Bach.
Our piano students in music festivals and competitions of 2013 - 2014
At the 2014 CCC Toronto Piano Competition, Christine received the First Place for her performance of Fantasia in D Minor by Mozart, Johann received First Place in the Age Achievement category after a two-piece performance of Prelude and Fugue by Bach and Basso Ostinato by Shchedrin. He also received the Third Place with Partita in C Minor by Bach. Big congratulations to them!
Johann, our student who is a fierce competitor in music festivals and piano competitions, was also the winner of Symphony on the Bay's 2013 Young Artists' Competition, in the Junior category, with Grieg's Piano Concerto in A minor. He was invited to perform in concert with the Symphony on the Bay at the Burlington Performing Arts Centre on November 3, 2013 and brought the audiences to their feet at the end of a fantastic performance!...
He also won the Second Prize and a scholarship in the national finals of the prestigious Canadian Music Competition held this year in Sherbrooke, Quebec. A video of the piano performance of Grieg concerto is among the pieces in the playlist below.

Warm congratulations to all our students who participated at other music festivals and piano competitions in 2013!
At the Ontario Music Teachers Association Spring Auditions nineteen of our students qualified for the honours recital: Ryan, Bryan, Christie, Emily, Julia, Rachel, Leon, Angie, Eugene, Sofia, Helena, Maria, Justin, Christine, Chris, Ashlyn, Hailey, Stephanie, Johann, several receiving marks over 90. Eugene received the Shirley Knautz Award, Johann received the Ann Hulbert Award, Helena qualified for the GTA Zone Competition with the best mark in her age group.
Ashlyn received Second and Third Place at Markham Music Festival, Maria received the Third Place at Euromusic Markham Music Festival, 2013, Christine was awarded three Second Places at Richmond Hill Music Festival. Sofia received First Place and Maria received the Third Place at the same festival, and Johann was awarded two First Places and performed at the Gala Concert in the Richmond Hill Centre for Performing Arts. Well done and keep up the wonderful work, everybody!
Our piano students in music festivals and competitions of 2012
The year of 2012 was one of great accomplishments for most of our piano students, who prepared themselves excellently and participated in many piano competitions and music festivals in Greater Toronto Area, the Ontario province and beyond - such as the country-wide Canadian Music Competition, as highglighted below. Congratulatinos to all for well deserved results following their sustained efforts in piano education!
Arts Richmond Hill Music Festival

Amit: Third Place
Ashlyn: Third Place
Catherine: First Place with a mark of 93
Christine: three awards of Second Place
Johann: two awards of Third Place
Julia: one Second Place, one Third Place
Stephanie: Second Place
Chris: Second place

Canadian Music Competition

Johann placed seventh out of fourteen competitors in the CMC finals, after two rounds of qualifications. Bravo to him for this superb achievement! Video of the performance on the Videos page.

Mandarin Lions Arts Festival

Maria and Sofia: First Place with duet
Johann: First Place with best mark of 91, and another First Place with a score of 90
Rachel: Third Place

ORMTA (Ontario Registered Music Teachers Association) - Spring Auditions: our students got 3 ofthe 4 awards, one qualification to the zone competition, and 15 others qualified for the Honours Recital

Sofia: Shirley Knautz Award with best mark of 95 overall auditions
Johann: Ann Hulbert Award with best mark of 93 in the senior category
Nathan: Sheila Kendall Award with best mark in his category
Kevin: advanced to the zone competition

North York Music Festival

Hailey: First Place Age Achievement Award, received invitation to perform Kabalevsky. Rondo at the Gala Recital
Jonathan: Third Place

CCC Music Festival

Kevin: First Place with a mark of 92, invited to perform at the Rising Stars concert, and a Third Place with a mark of 86.
Johann: Second and Third Place
Shirley: Third Place

Markham Music Festival

Maria: Two Third Places
Sofia: Second Place
Helena: Second Place
Hailey: Second Place and Two Third Places, one with a mark of 91
Jackie: Second Place
Johann: First Place
Catherine: Two Third Places

Newmarket Lions Music Festival

Johann: First, Second and Third Place
Oscar: Second Place
Our students in music festivals and competitions of 2011
We had top performances at the Arts Richmond Hill Festival where we obtained three first prizes (Chris, Christine and Hailey), three second prizes (Kevin, Hailey and Johann) and three third prizes (Johann, Hailey and Christine). Christine and Hailey were invited to participate to the Gala Recital.
The highest and most honourable awards of the ORMTA Spring Auditions went to Debut Piano Studio's students. Kevin received the Ann Hulbert Award and scholarship for highest mark of all competitors, and represented the ORMTA branch in the zone competition, where he placed third. Jason and Justin received the Oceanna Music Publications Award and Justin was awarded the Christine Loach Award and scholarship. Everybody else was selected for the Honours Recital.
The Kiwanis Music Festival brought exceptional awards as well: a scholarship and first prize to Justin and Jason. Patrick received the First Place and Fred Speer Memorial Award and scholarship. Christine was awarded first prize, Sophia, Maria, Helena, Steven, Jalen, Ashlyn and Hailey received the second prize.
Our students in music festivals and competitions of 2010
The 2010 Kiwanis Musical Festival of Greater Toronto: A large number of our students signed up and we had a total of 22 Gold and 5 Silver and quite remarkable placements: one Best in Class, six First Places, six Second Places, five Third Places.
The 2010 ORMTA Spring Auditions took place in April. All Debut Piano Students who participated qualified for the Honours Recital and Chester won the Ann Hulbert Award with the highest mark of 92. He performed next in the GTA Zone Competitions as representative of the Scarborough Branch, where he placed second.
The Mandarin Lions Music Festival: All our four participants received in total five 1st, three 2nd, and one 3rd placements.
Our students in music festivals of 2009
After two preliminary rounds in the Canadian Music Competition, Hailey qualified for a sholarship and made it into the finals, held in Montreal in July. She was honoured with a mark of 99 by the head adjudicator. Please see her performance video. at the 2009 finals of CMC.
ORMTA Recitals and Auditions: Out of the ten Debut Piano Students who signed up for the Spring Auditions 2009, eight qualified for the Honours Recital and received an Achievement Ribbon. Hailey received the Christine Loach Award for Best in Intermediate Category and Achievement Ribbon, with a mark of 95. Chester received the Anne Hulbert Award and Achievement Ribbon for Best in Senior Category with a mark of 93, and qualified for the GTA Auditions where he placed second.
Kiwanis Music Festival of Grater Toronto Area: In 2009, six students received Gold and two Silver. They were also awarded placements - see the Students page.
Newmarket Lions Music Festival - Timothy received 1st Place in 3 categories
Euromusic Markham Music Festival - Timothy received 4 awards
Mandarin Lions Arts Festival - Timothy and Hailey received awards
Music festivals and competitions
To book a private piano concert with Sergei Pavlov, please contact us . Bookings are required in advance. See highlights of Sergei Pavlov's piano repertoire on the Teacher page.
---
Empire Theatres featuring world stage classical productions in HD

Details/synopsis of upcoming performances on the Empire Theatres website >>

Opera in HD: Schedule of the Metropolitan Opera in New York, featuring phenomenal operas by Verdi (Aida, Rigoletto, Otello, Un Ballo in Maschera), Donizetti, Mozart, Wagner, Berlioz and others.

Cineplex Odeon featuring Live Metropolitan Opera and National Theatre events in HD, as well as the Dance Series

The International Tchaikovsky Competition

This prestigious competition takes place every four years in Moscow and features piano, violin, cello and voice competitions open to outstanding candidates from around the world. The results of the XV International Tchaikovsky Competition of 2015 have just been announced. Here is a glimpse at the French competitor Lucas Debargue - who won 4th prize and was quite loved by the audiences, and the outstanding Russian competitor Dmitry Masleev who won First Prize. The Canadian-based concert management company Show One Productions has promised to bring some of the most interesting competitors in the 2015 Tchaikovsky Competition of 2015 to Toronto, soon, so stay tuned for their announcement.

Royal Conservatory of Music

Canadian Opera Company

COC has a new house, the Four Seasons Centre for the Performing Arts, and the performances are almost always sold out!

National Ballet of Canada

See the National Ballet's website for upcoming events in the upcoming season . Giselle, The Nutcracker, Romeo and Juliet are just a few to mention.

Toronto musical arts and events

For more musical events around Toronto you may want to check the concerts and opera listings on the website of the Classical 96.3FM radio station.
v5 © 2004 - 2015, all rights reserved.